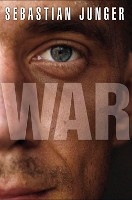 Like (probably) most Americans, I have never fought in a war, and am unlikely ever to do so. Like (probably) most Americans, I nonetheless hold plenty of opinions about war in general as well as about specific conflicts. Those opinions are important to us, and we regard holding onto them in the face of opposing views as a matter of psychological -- almost theological -- life and death.
But civilian opinions one way or the other about war, any war, shred like tissue paper when you try to wrap them around the hard, spiky reality of soldiers' experiences. It simply doesn't matter what John Q. Public (let alone his favorite talk-show host) thinks.
Enter Sebastian Junger's newest foray into the human response to extreme stress, called simply
War
.
It follows, roughly in chronological order, the year which Junger spent embedded with the men of Battle Company of the US Army's 173rd Airborne Brigade, in the Korengal Valley along the Afghanistan-Pakistan border between 2007 and 2008. Much of the book is written in the present tense, which both fuels the intensity of action scenes and suggests, rightly, that this is not about stuff which
happened
: it's about stuff which
happens
, and will probably keep on happening long after anyone remembers why we were in Afghanistan in the first place.
How active was Battle Company in the conduct of the war? Early in the book, Junger presents us with a couple of statistics:
Nearly a fifth of the combat experienced by the 70,000 NATO troops in Afghanistan is being fought by the 150 men of Battle Company. Seventy percent of the bombs dropped in Afghanistan are dropped in and around the Korengal Valley.
That announces right up front: this will probably not be a book in which to find a lot of material about the beauty of the landscape, the simple lives of the mountainside shepherds and farmers, the tragedy of native lives being torn apart by war. Politics and religion play no direct part in the lives of soldiers serving a tour of duty in such circumstances. (They do, of course, play an enormous
indirect
role.)
For as Junger himself carefully points out,
battle
is not
war
. Someone debating the pros and cons of war and peace is probably not waiting for the shriek of a rocket or the
thwap!
of a bullet into a nearby sandbag.
(Junger dwells quite a bit on the sounds of battle, probably because the soldiers do, probably because although you can shut your eyes and imagine it gone, you can't kid your ears. To know the nuances which distinguish a monkey's cry from a rocket, or the barking of a dog alerting you vs. that of a dog alerting your enemy -- to recognize such nuances is to stay alive a few moments longer.)
Like professional sports, a great deal of a soldier's life consists of just sitting around waiting for life to happen. And Junger pays a lot of attention to these idle moments, as well. In the quiet, "off-duty" moments he locates the reasons why groups of soldiers succeed or fail. Consider the titles of the three sections into which he's organized the book:
Fear. Killing. Love.
The second may be (not surprisingly) the central one -- the one which distinguishes a book about soldiers from one about (say) firefighters or police. But it's bracketed by sections all about men's looking inward to themselves and outward to their daily life -- outward toward others.
By far, most of
War
pertains to events, and what men say (or shout) about them at the time and afterward. You will read about moments in which bullets and mortar shells, rockets and shrapnel transform men who are whole into men who are not. Junger does not stint on his coverage of the sheer rushing-blood excitement of combat. (He insists, I think rightly, that anyone considering a long-term "cure" for war will need to take into account this excitement, and the easy addiction to it.) You will also find moments of surprising comedy, of strong, cynical men breaking down and weeping into their hands.
But one passage which I found particularly telling was a more theoretical one in that last section, about the value of altruism -- the "I'd throw myself on a grenade for my buddies" syndrome. After all, suicide for the sake of others makes no evolutionary sense: it's saying,
My own gene pool doesn't matter as much as everyone else's
. "Researchers," Junger notes, "have never once observed a chimpanzee turn around to help another male who is getting beaten to death by outsiders."
So why will soldiers do it? Even if they never have an opportunity, why do they all seem, almost universally, to accept they they would?
To answer this, Junger cites research into ancient cultures (which organized themselves -- coincidentally or not -- into roughly the same size groups as platoons and companies):
Humans lived in groups... who were loosely related to one another. They married into other groups that spoke the same language and shared the same territory... Because of our violent past, evolution may have programmed us to think we're related to everyone in our immediate group -- even in a platoon -- and that dying in its defense is a good genetic strategy... Groups that weren't organized like that may have had a hard time competing with groups that were, so in that way a propensity for bravery and self-sacrifice could have spread through human culture.
I found this convincing and compelling. I also found in it a lesson for the culture at large -- a suggestion that maybe these values might be important elsewhere than on a battlefield. But maybe that's just me, from the comfort of my desk chair.