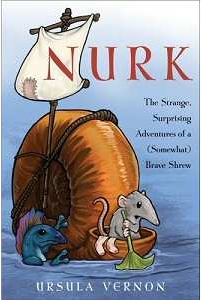 Okay, here's a quick-brushstroke summary:
Cute little shrew named Nurk goes on a journey in the footsteps of his adventuring grandmother, sailing downriver in a boat made of a snail's shell. En route, he encounters the kingdom of the dragonflies, talking fish, frightening mushrooms, a mole the size of an asteroid, and many other obstacles. He becomes a hero, perhaps even one his grandmother would be proud of. Delightful drawings throughout.
How would YOU position such a book in the marketplace?
The publisher, Harcourt Children's Books, responds to that question: it's for ages 9-12.
Only, er, not. Or rather: not quite -- not without qualification.
Why? Mainly because
Nurk
(subtitle:
The Strange, Surprising Adventures of a (Somewhat) Brave Shrew
) sprang from the mind and brush of Ursula Vernon, creator of the webcomic called
Digger
. If you've seen any of those comic strips (or the books created therefrom, or just about any of Vernon's artwork, for that matter), you know what to expect: small furry creatures, yes; cute? oh my, yes!
And yet...
...and yet, Vernon does have something of a twisted sense of humor. Consider, for example, an excerpt from the first couple pages. At this point, you've just read a brief, lyrical passage about the tree in which Nurk lives and the stream which flows by it, a passage which itself stops just this side of precious. And then you continue on:
More than anything, Nurk wanted to be like his grandmother Surka the warrior shrew. Surka had been a fighter, a dishwasher, and a pirate queen, and he was very proud to be related to her. Her portrait hung in the front hallway, and it was the first thing anyone ever saw when they entered his house. (Since the portrait showed her brandishing a severed head, this was a bit of a shock for first-time visitors...)
The "dishwasher" in the middle of the grandmother's resume will be the first snag for a careful reader's attention. And then there's the severed head, of course, references to which will appear throughout the book, beginning with the very next paragraph. These are the first signs the story -- the shrew, and the reader -- might be in the hands of a children's-book author with a fondness for anarchy.
A little later, Nurk is admonished by a hummingbird mail carrier. It seems a letter which he has just delivered to Nurk might or might not actually be to Nurk. (The address is smudged and not quite legible.) The hummingbird reminds Nurk that if he opens "a letter intended for someone else, you've committed theft and mail fraud and misrepresentation and swindling a public employee and using a false name and maybe even treason."
This passage presents several problems for any reader expecting Flopsy, Mopsy, and Cottontail. The syntax and diction, for instance, rather push the limit of what might be considered classic style for pastoral children's literature. (As anyone who's read anything by Vernon can attest, she is every bit as much a writer as an artist.) And the introduction of treason at the end of the list verges on (gasp!) political satire, which some parents might not consider appropriate for the 9-12 age group.
When you dive into
Nurk
, then, you should forget all about Peter Rabbit and Winnie-the-Pooh and Frog and Toad and the rest. Those aren't in
Nurk
's category -- its family, really. You want to know the real genetic relative? The
Shrek
movies.
Which is to say:
Nurk
stubbornly declines to talk down to kids. Furthermore, it offers subversive rewards to adults, packaged in an exciting adventure story for the kiddies. It would be, really, a waste if only kiddies were to read it: the ideal audience is a child and a parent taking turns reading the story aloud. At least, as long as the parent braces himself for many questions along the lines of, "Why did you laugh just then, Daddy?" If you're not the sort of parent comfortable with such questions, you might want to reconsider
Nurk
.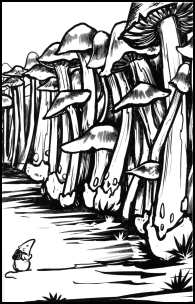 But before making up your mind for good, please consider too the drawings accompanying the text. These (except for the cover) are all in black-and-white, and on average you'll find one full-page illustration per each of the dozen chapters. (A sample is at the right; click on it for a larger view.)
Note the way this fairly simple picture captures the shrew's-eye view of the world -- a world in which mushrooms loom like Sequoias. Note the way that with a few strokes of a pen, Vernon has captured the trepidation of the creature about to enter this dark forest: his head tilted back, his mouth shrunken to a pinpoint, his forepaws held up at chest height. You can almost hear the "gulp." (And don't forget to notice the perfectly scaled little backpack, either -- a detail that another author/artist might have left out altogether, or exaggerated up or down.)
Between the text and the art, what you've got in
Nurk
is an adventure for sophisticated kids and their parents -- anyone, really, who can face big ideas, occasional big words or sentences, and yet (while swallowing a "gulp!" of their own) still soldier on.