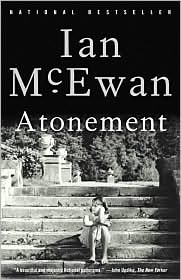 If you've been on my blog, you'll know that I recently finished
Atonement
, and that I struggled with this book in the beginning.
I actually HATED Part I. With a discontent bordering on passionate anger. I DESPISED Briony, felt the thoughts of the characters were self-indulgent and trivial and utterly annoying. I actually started to somewhat skim through the last 30 pages of Part 1 because I was so SICK of their little internal whims and fantasies, and I just wanted to know the basic plot. If I hadn't been a person who sticks through a book til the end, I probably would have closed the book and never picked it up again (until I saw the movie and my curiosity got the better of me).
But as it was, I kept going. And after my initial reaction, the rest of the book was actually really good. I enjoyed it. And of course the ending (which I won't give away here, but I talk about on my blog).
It's hard to say much about why I ended up liking the book without giving away the ending. So I'll say this: McEwan is great with language, but I could have done without the beginning drivel. Even if I understand why now he did it, I still hate it. But ultimately what redeemed this book for me was the question and theme that it was situated around. The concept. It's an incredibly brilliant way of executing a theme such that the reader asks themselves certain questions. And it's on this alone -- the ending, the reveal, the big picture, that this book redeems itself to me.
Hey, and maybe that's part of his genius. In the end, it gains atonement.
So, this is a book for a patient reader. But good. And the movie does not do the ending justice, but how could it?