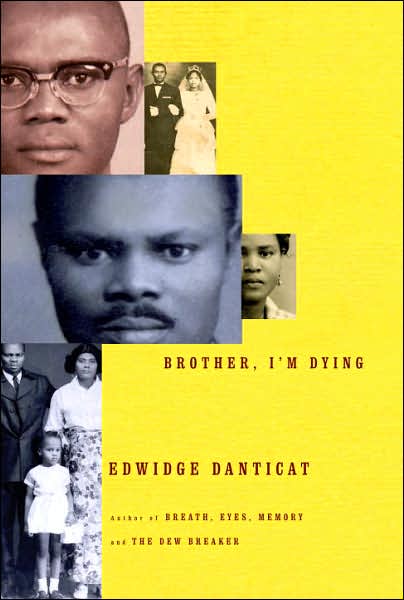 When I went to Edwidge Danticat's panel at the Brooklyn Book Festival, she said that her new book,
Brother, I'm Dying
, was less of a "me-moir" and more of an "us-moir".
On the day that she learns her father is dying of a pulmonary disease, she also finds out she is pregnant. Soon thereafter, her Uncle Joseph, fleeing from unrest in Haiti and seeking political asylum, dies in immigration detention. He was 81.
[I'm not ruining the book, this is all captured in the jacket flap copy.]
The book interweaves her memories of childhood in Haiti, being raised by her uncle and aunt, as well as other family history as told to her by her family, and her memory as more recent events unfold, including her father's struggle with the disease and her uncle's plight in 2004.
It is told with Danticat's usual beautiful prose, although at times, an understandably more journalistic voice, as if she was distancing herself some. It is heartbreaking and lovely at points, as she recounts saying goodbye to her mother at a young age (4 I believe it is), as her grandmother passes away, as her uncle buys her coconut flavored ices and a treasured copy of Madeline. Moments such as the first time she sees her parents again bring tears to my eyes, just as her recount of her five year-old little brother, whom she is meeting for only the second time, running up to her and squeezing her tight, asking her, "Are you really my sister?" brings a smile to my face.
Of course, reading her retelling her uncle's detainment, you catch an underlying sense of fury, anger, injustice that she never wholly allows to come to light. She lets the facts speak for themselves, only letting her sorrow over what his last few days must have been like, alone, old, come through.
Additionally, it offers a backdrop of the turmoil that Haiti is going through at nearly all times. I like learning about these snippets of unknown history (for most people who are not Haitian), so I enjoyed that too.
I am a Danticat lover, so of course, this comes highly recommended from me.